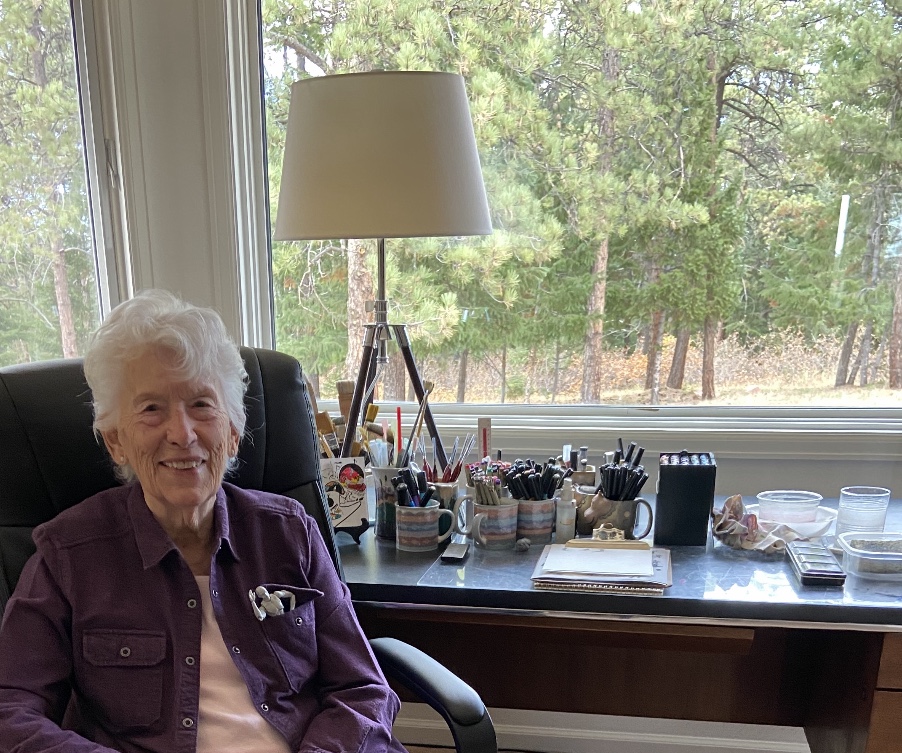 As a professional artist I have received national and international recognition for my paintings and photographs.
My paintings have been given awards, such as ribbons, and recognitions as Best of Show, Honorable Mention, Juror's Choice, and have been accepted in numerous juried and non juried art exhibits in both the Realistic and Abstract Expressionism categories.
I have been invited to be the Featured Artist in galleries, held two large and many other Solo public displays of my work, given talks and written art blogs about how to better appreciate and understand Abstract Art.
It was my privilege to be part of three different studio galleries. I have been recognized as a Signature Member of the Colorado Water Color Society and the Greater Castle Rock Art Guild. I enjoyed teaching Fine Art in a private school in Houston, Texas as well as in St. Louis, Missouri.
I hold an Associate of Fine Arts Degree from Columbia College. Columbia, Missouri and a Bachelor of Fine Arts Degree from Wittenberg University, Springfield, Ohio.
Although a native Kentuckian I have lived in Colorado long enough to call it my home. Because of my husbands business commitments we have lived in six different states where I became deeply involved in a wide range of volunteer activities, raised two sons and finally settled down to concentrate on nurturing my artistic talent primarily through abstract painting.
From my Sedalia Colorado studio, nestled in the Foothills of the Rocky Mountains south of Denver, emerge my unique individual expressions of ideas, thoughts and inspirations communicated through both painting and writing.
As a visual artist my work captures different conceptions of a visible world.
As a thinker my work also incorporates ideas beyond that world.
After studying and painting the fundamentals of objective realistic art at a collegiate level I began to move in the direction of wanting to depict, in my own manner and style, art that was meaningful to me.
Over time, as I uncoiled further and further from the confines of realistic art, I realized I was painting ideas not subject matter. I was painting my ideas abstractly and happily found my place within the world of Abstract Expressionism.
This evolution of my visual painting is due in part to my built-in nature of being more aware of an unseen rather than a seen existence. Original ideas and thoughts have always taken substantial forms in my mind as individual outlines, colors, shapes and textures.
It was a familiar path for me, as a visual artist, to develop various methods that allow these ideas and substantive concepts to become discernible expressions in the form of abstract paintings. My artwork makes the intangible tangible so others may appreciate and enjoy my unseen world. For many viewers my paintings became more meaningful when I have the opportunity to share explications of my work. Now I include them in art blogs for my website.
I continue to enrich my appreciation of the Fine Arts through deeper study of the lives, methods and thoughts of interesting artists. As I gain more experience and better skills in the applications of various mediums, my creative imagination is inspired and released to follow its own path.
I understand now that a painting does not have to be OF something. The painting itself IS something that contains its very own universal sphere of reality.